If there's one game that seems to be everywhere these days, it's Overwatch. Available on PC, Xbox One, and PlayStation 4, Overwatch has solved the "I don't have that console" problem that some gamers face by supplying the game on three major platforms (sorry, Nintendo gamers!)
Overwatch is a team-based, multiplayer online game that was released on May 24th, 2016 by Blizzard Entertainment. You might remember Blizzard Entertainment as the company that developed the World Of Warcraft, Diablo, and StarCraft series. Overwatch has definitely joined that roster of greatness during the past year, even winning "Game Of The Year" at 2016's The Game Awards.
In Overwatch, players are assigned randomly into two teams of six, and they can choose from twenty-five characters to play as during the session. For someone like me, who prefers solo play or play with known friends only, this can be a little unnerving and anxiety-driven.
With more and more people hopping aboard the Overwatch train, the pressure has been mounting to purchase a copy of game myself. Still, the forced multiplayer aspect has worried me. What if I spend $60 on a game that I wind up not liking? That is a lot of money to waste for a game whose genre has generally not be well-received by me.
I kept wishing there was a way to test out Overwatch before making the final purchase, and I found myself longing for the days of good old Blockbuster and Hollywood Video game rentals during my adolescence.
Blizzard Entertainment has seemingly heard my plea, and they have come up with a way to attract new players to Overwatch for no cost at all.
This weekend only (September 22nd, 2017 – September 24th, 2017), Overwatch is free to download and play for PC, Xbox One, and PlayStation 4 users. Instead of giving a restricted demo, gamers will have access to all twenty-five characters and all sixteen maps. This will give them a full look at the game before deciding whether or not to purchase it.
A variety of modes will be available to free players, such as Quick Play, Arcade Play, and Custom Games modes. Players will still be able to level up, unlock character customization options, and earn Loot Boxes, just like pre-existing players. And as long as you use the same Xbox Live, PSN, or Blizzard account that you created for the free weekend, your progress will fully transfer over to a purchased game's stats.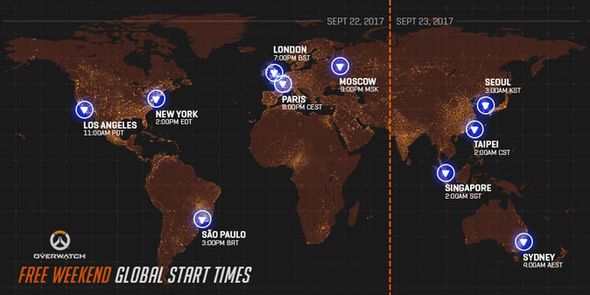 You can begin your free look into Overwatch at 2pmEDT in America, 3am JST in Asia, and 8pm CEST in Europe. Seeing as this article was scheduled to post at 2pmEDT, you can begin playing now!
To participate, you will need an active Xbox Live Gold Membership or a PlayStation Plus subscription. PC players will need to create a free Battle.net account. After that, download and install the Overwatch game, and get started.
You can find me testing out Overwatch this weekend for sure, and I will likely do a Saturday and a Sunday stream on Twitch (giving me Friday to figure out some of the controls). You can find me on PC Overwatch @TheAngieChu, and you can check out my Twitch streams here!
Save
Comments
comments