Hop on your broom, and get ready for a new installment of The Chic Geek! This month, we're doing Kiki's Delivery Service.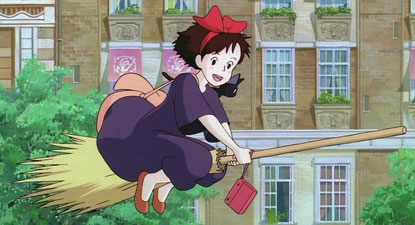 Kiki's Delivery Service, by famed director Hayao Miyazaki, was one of my favorite movies growing up. This whimsical tale follows the adventures of Kiki, a young witch who sets off on a year long apprenticeship to find her talent. Along with her talking cat JiJi, and her less than stellar flying skills, she starts a delivery service in the town of Koriko, making friends and finding herself along the way.
To get Kiki's signature look start with a simple black dress, add some tan flats, a messenger bag, and top it off with a bright red bow.
Skater dress
$30/
Flat shoes
$20/
Satchel handbag
$45/
Chain necklace
$12/
Hair bow
$4/
Comments
comments